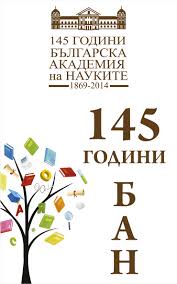 On October 2, 2014, the Institute of Biophysics and Biomedical Engineering, BAS organized the Scientific Session for PhD Students and Young Researchers, dedicated to the 145th anniversary of the establishment of the Bulgarian Academy of Sciences. In the frames of the scientific session titled "Biomedicine and Quality of Life", 25 PhD students and young researchers from the Institute presented their research developments.
The communications were grouped in four of the Institute's priority thematic directions: "Photobiology and photoexcitable membranes", "Biolofical membranes and biomacromolecules", "Excitable structures and control of movements", "Biomedical engineering, bioinformatics and biomaterials". The scientific session was opened by Corr. Member Prof. Andon Kossev, DSc, Director of IBPhBME-BAS.
To encourage the young researchers, the presentations in the four thematic directions were awarded with certificates. The summaries of the 25 communications are available (in Bulgarian) through the website of the Institute. The recorded interest to the presentations of the young researchers resulted in discussions for starting a tradition of organizing regular youth scientific sessions in the IBPhBME-BAS.
Photos