ISSN: 1310-5132, e-ISSN: 2367-8275, DOI: 10.7546/nntdm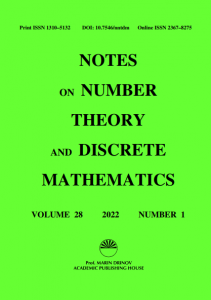 International Journal Notes on Number Theory and Discrete Mathematics is specialized in the area of number theory and discrete mathematics. The main topics of research, covered by the Journal, are arithmetic functions, prime numbers, Fibonacci sequence and its generalizations, Diophantine equations, combinatorics, combinatorial identities and inequalities, discrete mathematics, and others.
The Journal is refereed by Web of Science – Emerging Sources Citation Index  and other databases.
Editorial office
Institute of Biophysics and Biomedical Engineering
Bulgarian Academy of Sciences
Address: "Acad. G. Bonchev", block 105, Sofia 1113, Bulgaria
Email: nntdm.journal@gmail.com
Website: https://nntdm.net