ISSN: 1310-4926, e-ISSN: 2367-8283, DOI: 10.7546/nifs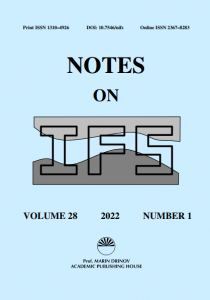 International Journal Notes on Intuitionistic Fuzzy Sets is specialized in the area of theory and applications of intuitionistic fuzzy sets – extension of the classical fuzzy sets defined by Lotfi Zadeh. Since 1997, it hosts the proceedings of the International Conference on Intuitionistic Fuzzy Sets, annually held in Bulgaria, and since 2005 it hosts those of the International Workshop on Intuitionistic Fuzzy Sets, annually organized in Slovakia.
The Journal is refereed by Zentralblatt MATH (until 2017) and other scientific databases.
Editorial office
Institute of Biophysics and Biomedical Engineering
Bulgarian Academy of Sciences
Address: "Acad. G. Bonchev", block 105, Sofia 1113, Bulgaria
Email: nifs.journal@gmail.com, krat@bas.bg
Website: http://ifigenia.org/wiki/nifs